Education
Achievers University, Owo Cut Off Mark & How to Calculate Their Aggregate Score
We have come to know that many students find it really difficult to calculate their aggregate score and their cut off mark and it really isn't their fault as calculating cut off marks varies for different institutions.
On this note, we have made it easy for you by giving you step by step procedure on how to calculate Achievers University, Owo  aggregate score, but before this, we are going to tell you what aggregate and Post UTME Score means and what things are to be considered before calculating the aggregate score.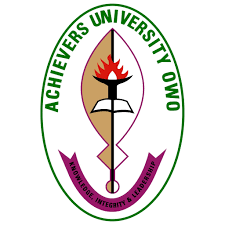 Nursing Science 190
Medical Laboratory Science 150
Human Physiology 140
Human Anatomy 140
Public Health 140
Accounting 140
Business Administration 140
Economics 140
Political Science 140
International Relations 140
Public Administration 140
Sociology 140
Criminology & Security 140
Microbiology 140
Computer Science 140
Geology 140
Industrial Chemistry 140
Biochemistry 140
Plant Science & Biotechnology 140
Law 150
Computer Engineering 150
Biomedical Engineering 150
Mechatronics Engineering 150
Telecommunications Engineering 150
Electrical & Electronics Engineering; 150
ACHIEVERS UNIVERSITY Post UTME cut off mark
The ACHIEVERS UNIVERSITY Post UTME cut off mark is the minimum score in the post UTME screening expected by any candidate who had the ACHIEVERS UNIVERSITY JAMB cut off mark as participated in the ACHIEVERS UNIVERSITY Post UTME Screening.
This is the least post UTME score eligible for admission consideration.
See the ACHIEVERS UNIVERSITY post UTME cut-off mark for the last 2021/2022 admission year below. this will give you a clue of what I was explaining above.
COURSES
ACHIEVERS UNIVERSITY MINIMUM JAMB CUT OFF MARK
Faculty of Social and Management Sciences
Accounting
160 and Above
Business Administration
160 and Above
Economics
160 and Above
Mass Communication
160 and Above
Political Science
160 and Above
International Relations
160 and Above
Public Administration
160 and Above
Sociology
160 and Above
Criminology & Security Studies
160 and Above
Faculty of Natural and Applied Sciences
Microbiology
160 and Above
Industrial Chemistry
160 and Above
Biochemistry
160 and Above
Computer Science
160 and Above
Geology
160 and Above
Medical Laboratory Science
160 and Above
Nursing Science
160 and Above
Faculty of Engineering and Technology
Electrical & Electronics Engineering
160 and Above
Computer Engineering
160 and Above
Telecommunications Engineering
160 and Above
Mechatronics Engineering
160 and Above
Biomedical Engineering
160 and Above
Faculty of Law
Law
160 and Above
Imo State Courses & Admission Requirements 
Delta State Polytechnic Ogwashi Uku Courses & Admission Requirements 
Abia State University Courses and Admission Requirements 
List of Nigerian Universities Offering Accounting 
FUTO Courses & Admission Requirements 
State Universities In Nigeria, Courses and Admission Requirements 
ACHIEVERS UNIVERSITY departmental cut off mark
The Achievers University departmental cut off mark is the final minimum score expected from a candidate to get admission into his/her course of choice at the Achievers University.
This is purely based on the department or course involved. The ACHIEVERS UNIVERSITY courses and cut off mark for admission is not static and its influenced by the following;
1. General Performance:
general performance among candidates aspiring for that course in both the SSCE, JAMB and Post UTME: The better the performance, the higher the department's admission cut off mark. The final admission cut off mark is derived from the following;
WAEC/NECO/NABTEB GPA (grade points from the relevant O'level subjects).  
Average between the JAMB score and the post utme screening score. 
2. Admission Quota
Admission quota for the department: Each department has admission quotas allocated by the Nigerian University Commission (NUC). For example, if the admission quota for Medicine and Surgery is 100, the department will not accept any more candidates for admission after the slot is exhausted no matter the candidate's score. in this case, the university admits candidates based on merit hierarchy (from the best candidate down to where the quota becomes exhausted). Let me just believe you understand me here. Waec Result
For more, educational, job updates and recommendations, visit mextechy.com.ng