Tech
Best Drawing Apps for iPad
Many things today have gone digital, and drawing apps are no exception. They are an easy and affordable way to create digital art without any fuss.
No longer do you need to collect paints and brushes, nor do you need to worry about pesky paper cuts from a stubborn paper canvas.
Instead, you have a wide-open screen ready for your best creativity and next work of art.
Before you draw your next masterpiece, we've rounded up the best iPad drawing ups that will let you get creative with any iPad model.
Procreate
Best iPad drawing app overall
Read also:
Pixel 7 to Be Made in Vietnam as Google Begins Moving Flagship Production Out of China: Report
Google Hangouts on the Web to Be Upgraded to Google Chat From November 1
Binance CEO Hits Out at 'Chinese Company' Label and His Connections to the Country
---
pros & cons
pros
Simple interface
Great selection of brushes
Fantastic tools
Specs: Developer: Savage Interactive Pty Ltd | Cost: $9.99 | App Store rating: 4.5 | Compatibility: iPad
There is no doubt that Procreate has remained one of the best drawing apps for iPad.
Designed to work with your own iPad and Apple Pencil, there are hundreds of brushes to choose from that you can all use with 64-bit color for your new ultra high definition canvas.
You have the ability to create a variety of different artwork, like sketches, paintings, illustrations, and animations.
The excellent tools include a QuickShape feature to ensure perfectly-shaped shapes every time. There is also a smudging tool, plus options for 3D metallic and roughness for your painting.
If you are a painter, you are sure to appreciate 3D Painting with Lighting Studio and Animated Export. Plus, you get to benefit from the super-fast Valkyrie graphics engine for better performance.
Adobe Fresco
Best iPad drawing app for painting

Image: Adobe
pros & cons
pros
Realistic tools
Advanced brush selection
Classes and training
more details
Specs: Developer: Adobe Inc. | Cost: Free, or premium version for $9.99 | App Store rating: 4.7 | Compatibility: iPad, iPhone, iPod touch
Compatible with all sorts of Apple devices, the Adobe Fresco gets our pick for the best drawing app for painting on your iPad.
Designed specifically with iPads in mind, the compatibility is fantastic, leaving no doubt about performance.
It works seamlessly with Apple Pencil and even your iPhone, syncing across devices to allow you unfettered access to your works in progress.
This app is a great fit for professionals, giving the ability to use the app as a sketch pad or for watercolors or oils.
There are three types of brushes available – live, pixel, and vector – to help you create exactly the type of lines and marks that you want.
Overall, there are thousands of options for you to choose from. When you are done, enjoy easy Photoshop integration, plus extra creative cloud storage when you upgrade to premium.
Assembly
Best iPad drawing app for professionals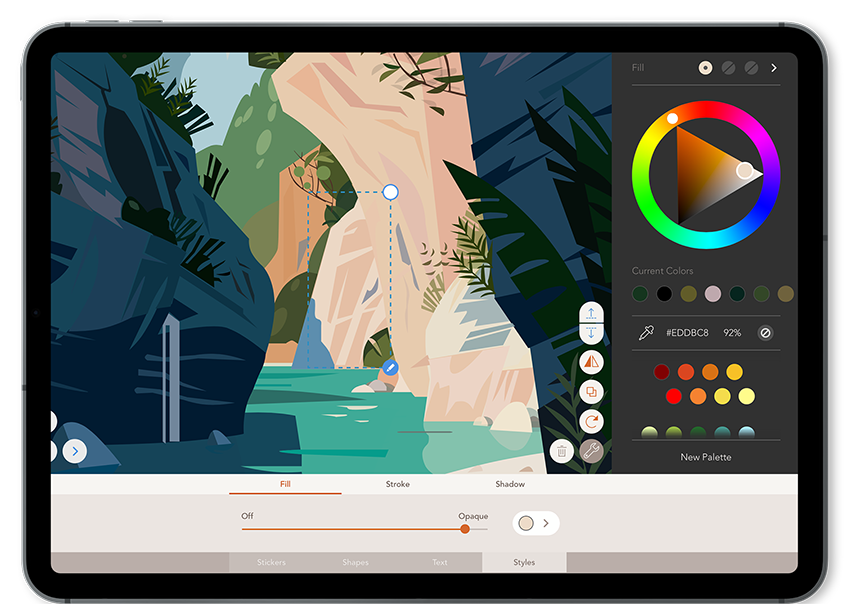 Image: Assembly
pros & cons
pros
Beginner-friendly
Easy to use
Free 7-day trial
cons
Restricted export options
Subscription required
more details
Specs: Developer: Pixite Inc. | Cost: $2.99 – $4.99 per month | App Store rating: 4.5 | Compatibility: iPad, iPhone, iPod touch
Assembly is excellent to use, whether it is vector art or a sketchbook. Professionals of all kinds will revel in the ability to create a variety of different artwork, including logos, icons, and illustrations.
Enjoy powerful tools and features, allowing you to create groups of graphics and layer your designs. You can also choose from 25 different fonts or import others using the complete text engine.
You also benefit from 250 finished stickers, 35 pre-made color palettes, and 21 themed shape packs with over 1,000 shapes.
The impressive point editing system features industry-standard bezier curves for better performance.
Once you are finished, you have the ability to import and export with desktop apps in your choice of formats like JPG, PNG, SVP, and PDF.
Concepts
Best budget iPad drawing app
Image: Concepts
pros & cons
pros
Infinite canvas
Suitable for professionals
Group plans available
cons
No brush customization
Limited features under free plan
more details
Specs: Developer: TopHatch, Inc. | Cost: $3.99 – $29.99 | App Store rating: 4.7 | Compatibility: iPad, iPhone, iPod touch
Just because Concepts is the best cheap drawing app for iPad, do not think it skimps on features. There are a number of ways to use the app, whether it is sketching, doodling, or making mind maps.
You can draw storyboards and make design plans. You can even use the infinite canvas as a whiteboard to jot ideas and brainstorm your next project.
With all its abilities, this is an app used by some of today's leading companies, including Disney, Philips, Apple, Playstation, and Google.
Available are tons of pens, pencils, and brushes with the option to also create your own if you prefer a certain velocity, pressure, or tilt.
Coloring comes from the COPIC color wheel, but you can also add your own images and PDF files to spice up your content. When you are done, open via AirPlay for easy sharing.
Autodesk Sketchbook
Best beginner-friendly iPad drawing app
Image: Autodesk Sketchbook
pros & cons
pros
Wide variety of brushes
Perfect for kids
Compatible with Windows
cons
Slight learning curve
Some data loss from saving issues
more details
Specs: Developer: Sketchbook, Inc. | Cost: Free | App Store rating: 4.8  | Compatibility: iPhone, iPad, iPod touch
Autodesk Sketchbook is an excellent place to start when you want the best iPad drawing app for beginners. However, that does not mean that professionals will not enjoy this program, too.
There is a beautiful interface with a lifelike drawing experience, offering a variety of different brush types. It includes several different brush tropes, including pencils, markers, and airbrushes.
It allows brushes and pens to work in a lifelike manner, mimicking real shading and coloring. Available tools include guides, rulers, and stroke tools, plus layers and color fill tools to brighten it all up.
Make sure everything is symmetrical with vertical, horizontal, and radial symmetry tools.
Whatever you are designing, Sketchbook makes it easy by giving you the right tools in a simple, uncluttered workspace.
What is the best drawing app for iPads?