Education
CUSTECH Registration Procedure for 2022/2023 New Students
See below for CUSTECH Registration Procedure.
CUSTECH Registration Procedure
Click on the 2022/2023 Admission Status and Registration Procedure Link to check your admission, so that you can retrieve your STUDENT ID

Click on the Link 'Request for new Password' on the 

efPortal Login

 page.

Enter your STUDENT ID and Click the' Request for Password' button
A page is displayed, showing the email created for you by the University.
Note: To Access your University's eMail visit the website; www.custech.edu.ng and click on the
eMail link at the top right corner of the website. Alternatively, you can go to www.gmail.com to access your eMail account.
Enter your full University eMail address (Example: alijkug2034@custech.edu.ng) and your password (Note: Your Password is your JAMB Registration Number).
The system will prompt you to change your eMail password (Ensure you take note of your email password).
Click on the inbox to retrieve the ePortal password sent to your email. (Note: If there is no password in the inbox, check the Spam folder for the password or USED: student as password)
After retrieving your ePortal password from your email return to your portal type URL (eportal.custech.edu.ng) to continue registration.
Enter your Student ID and the new ePortal password gotten from the email.
Click on the Login button.
Your ePortal page will be displayed showing your record. Click on the Admission link to download the Admission letter and also you will be prompted to update Personal records and also upload your passport photograph/signature.
Read also:
DSPG Admission List 2022/2023 | ND & HND Full-Time
Foundation Polytechnic Admission List 2022/2023
WUFPBK HND Admission Form 2022/2023
WUFPBK Post UTME Form 2022/2023 | ND Full-Time
FCFMT Admission List for 2022/2023 Academic Session
---
ACCEPTANCE FEE PAYMENT
Payment for the acceptance fee is displayed automatically after you have updated your profile and downloaded your admission letter.
Click the PAY BUTTON on the displayed window and follow on-screen instructions to complete your payment.
Note Payment channels such as cards, mobile money accounts, QR codes, directly from their bank account or USSD).
ONLINE CLEARANCE PROCEDURE
To start the clearance process for registration and school payment.
Follow the steps below:
Login into ePortal if you are not logon.
After login click on the Student Data link on the right side of your page and then select the Academic Records link.
Click on Add Academic Record to enter all O'level result details, and proceed to upload the necessary documentation required.
Click Submit Now button
Wait for the clearance officer to clear your submission and then you can proceed to pay your REGISTRATION FEE. Clearance can take up to 24 hours depending on the number of submissions on queue.
After the clearance, you can proceed to pay the Registration Fee if your payment was successful the ePortal will generate a Matriculation Number.
Open medical form and course registration form to complete the online registration.
Payment of the Acceptance Fee must be made within two (2) weeks of receipt of the admission letter.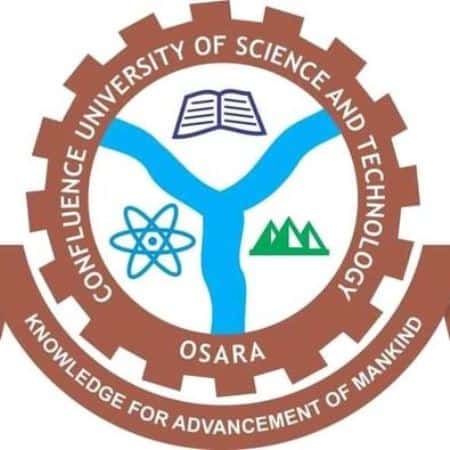 DOCUMENTATION
You are required to submit the following items to the Registry Department immediately after the completion of your online registrations:
Copy of the Letter of admission into the University, printed from Confluence University of Science and Technology, Osara website.
Copy of the Letter of admission printed from the JAMB website.
Copy of the UTME result slip.
Copy/Copies of the Academic credential(s)/certificate(s) or online printout results from the website of the examination bodies (WAEC, NECO & NABTEB).
Appropriate Scratch Card for the online verification of O'Level results.
Copy of the Birth Certificate or Statutory Declaration of Age.
Two recent passport photographs.
Online payment receipts for prescribed charges.
Certificate of confirmation as an indigene of your Local Government Council.
Copy of the Letter of attestation of good character from the student's Parent/Guardian/Sponsor.
Presentation of certificate of medical fitness from a reputable hospital.
All registrations, including payment of School Fees, must be completed within four (4) weeks of the receipt of letter of admission.
Other Posts:
NYSC 2022 Batch 'C' Orientation Course to Commence Nov 2
COOU ANSU Admission List 2022/2023
KASU Diploma & Certificate Admission Form 2021/2022
Caleb University School Fees Schedule 2022/2023
Osun State Poly (OSPOLY) Iree DPT Admission Form 2022/2023
OAU Post UTME Result 2022/2023 | How to Check Online
CUSTECH Admission List for 2022/2023 Academic Session
CUSTECH Registration Procedure for 2022/2023 New Students
30 Universities in the USA that accept international students with 2:2, 3rd class, or HND certificate.
Akwa Ibom State Poly Admission List 2022/2023
OOU Open and Distance Learning Admission Form 2022/2023