How to open a bank account in Australia: a guide for non-residents
Whether you're planning to move to Australia or have already taken the big leap into a new life there, you're bound to have a to-do list as long as your arm. One of the most important tasks for recent immigrants is to open a local bank account. So how is it done in Oz?
Documents needed to open a bank account in Australia
It almost goes without saying that you will need to validate your identity to open a bank account in Australia. Widely accepted documents include the following:
Birth certificate
Passport
Student ID
Driver's license
Utility bill
Rental contract
What sets Australia apart is that banks assign different values ​​to different forms of identification. This system was put in place to combat fraud and the good news is that it is not as complicated as it seems. It just means that you may be required to provide a specific combination of documents to pass verification checks.
An official photo identification document, such as your passport, counts as a high-value document and may be sufficient on its own. You may also have the option of submitting two documents of lesser value, such as your birth certificate plus your lease. Just keep in mind that a certified translator will need to translate the documents if they are not in English.
Also see:
Basic Guides to Exchange Rates: 12 Answers to Frequently Asked Questions 
How To Change your Address in the US
A Guide to Inflation and What Causes It In the United States
How to Save money On a Tight Budget
Renew Your Finances: Three Steps to Start Over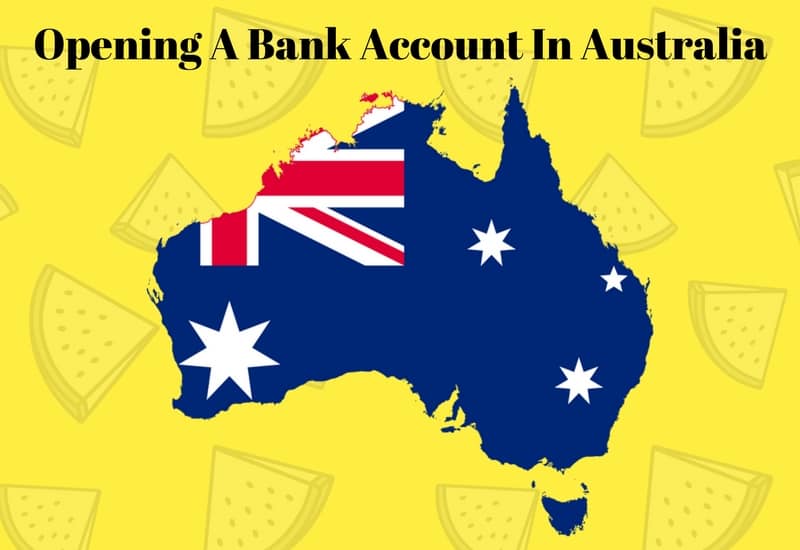 Many banks will allow you to open your account online up to a year before you move to Australia, if you can verify your passport and visa details. Just be aware that there will likely be account restrictions until you arrive in Australia. For example, you may not be able to make withdrawals, transfers or payments with the account until you confirm your identity at a branch by presenting the required documents. Check the specific terms and conditions of the bank to be sure of what is involved.
How to choose a bank in Australia
In Australia, there are a range of big banks that are very popular with Aussies and newcomers alike. Let's take a quick look to see what they offer.
COMMONWEALTH BANK
Also known as CommBank, it is the largest bank in the entire southern hemisphere. Unsurprisingly, it has a reliable customer service team for international customers and an easy-to-use banking app that you can download. The bank allows you to create a "Smart Access" account online up to three months before setting foot in the country. You'll be able to transfer money to your new account right away, though you'll need to go through ID verification in person at a branch before you'll have full access to account services.
NAB
The National Bank of Australia, or NAB, is, as its name suggests, one of the largest financial institutions in the country. Conveniently, it will allow you to open NAB Classic Banking account online up to 12 months before moving to Australia. You will only need to inform them of your passport number, visa details and the city where you will arrive. As in the previous case, you will have to wait until you pass the identification verifications in person before you can use your account in full. Benefits include free withdrawals and accounts.
WESTPAC
Founded in 1817 as the Bank of New South Wales, Westpac has a great pedigree as the oldest bank in Australia. Your Westpac Choice account is ideal for anyone who has moved to Australia within the last year. It has no service charges for the first 12 months and can be opened online in a matter of minutes. As usual, you will need to validate your identity at a branch before you can withdraw funds. The Westpac mobile app also offers a seamless banking experience on the go.
ANZ
Technically called the Australia and New Zealand Banking Group, ANZ is another menacing presence on the Australian banking landscape. You can open the "ANZ Access Advantage" account online up to one year before you move. Once the process is complete, you can go ahead and transfer your money right away (the other services are unlocked once you've gone through all verification at the branch). When you open your account, you will also receive a courtesy call from your multilingual 'international manager' who will answer any questions you may have.
ENG
Dutch banking giant ING has a significant presence in Australia. When you establish yourself as a resident, you can apply for the "Orange Everyday" account. It has no monthly service fees, and if you deposit at least $1,000 and make five card purchases each month, you'll be entitled to other benefits like refunds on international ATM withdrawal fees. As it's an online-only bank, there's no need to check in person, making it a great option in terms of convenience.
For more job updates and recommendations, visit mextechy.com.ng