Tech
How to see deleted posts on Reddit
Reddit has 52 million daily active users and is ranked the 9th most popular social media app in the US.
It's obviously very popular, but it does have its flaws.
There's one thing that Reddit app users find frustrating, it's that dreaded [ removed] or [deleted] notice that appears after a Redditor, or a moderator has wiped a specific post.
If you've found yourself in this position, let's share something with you for the future.
Here are some tips and tricks to help you understand how to see deleted Reddit posts, threads, and comments.
Read also:
Biggest Headache with Technology today
10 Best Paying Jobs in Capital Goods
5 Best Cross Media Publishing Tools 2023
---
How to See Reddit Deleted Posts and Comments Using Removeddit
One of the easiest ways to access deleted Reddit comments and posts is using Removeddit.
However, you do need to know the original URL to do it.
Replace "reddit" in the original URL with "removeddit" and the website will automatically load the cached version of the page.
Something else that's quite handy with this trick is that any moderator-removed posts display in red color, and Reddit user-removed posts are blue.
Removeddit also has a bookmarklet.
You drag this to your bookmarks tab so you can access removed posts quickly in the future.
When you spot a removed post, click on the bookmark, and the archived version is automatically loaded.
A similar tool to Removeddit is Ceddit.
It works in much the same way, but in this case, you replace "Reddit" in the URL with "ceddit."
How to View Deleted Reddit Posts and Comments Using Reveddit
Another downside of using the method above is that you can't look up users and posts by users.
This is one of the main reasons people tend to turn to Reveddit instead.
You can use this recovery service in one of two ways.
Visit the Reveddit website and enter a username in the pop-up window that appears.
You'll see all the Reddit posts that the user has deleted themselves or had deleted by admin or mods.
Alternatively, you can search for "reveddit real-time" on the Chrome Web Store or the Firefox Browser Add-Ons page.
Once you've installed the add-on, it will notify you of erased Reddit posts as they happen.
How to Find Deleted Reddit Posts and Comments by Using Wayback Machine
Wayback Machine is a fantastic website that you can use to retrieve a page.
Its outstanding feature is that it saves a screenshot of each website present online.
When you retrieve a page, it might not provide all the data you want, but it should provide enough.
You go to Wayback Machine's official website to access archived Reddit posts.
You'll see Reddit archive data and be able to search for a post based on data or date.
Copy and paste the Reddit post you want to view.
Next, you'll be given a calendar interface with years and months, and you have to decide the date you want to check.
You can find the right date to enter by finding the "deleted X days ago" tag on the post or comment.
Then, just subtract that many days to get the past date.
An advantage of using Wayback Machine is that you get to read deleted Reddit comments and, in addition, any edits that might have been made to the comment before it was deleted.
See Deleted Reddit Posts and Comments by Using Un-Delete Reddit Comments
Un-Delete Reddit Comments is a Chrome extension.
It allows you to access Reddit posts and read deleted comments later.
It might not be helpful to view deleted Reddit posts and comments, but it's a way of saving them to use or read in the future.
This extension lets you save all types of comments, even if they get deleted later.
However, you can't use it to recover comments that have already been deleted.
However, it's a very powerful tool if you manually cache every important discussion.
To use the extension, you first have to download it.
Then, simply open the Reddit post that you want to cache and click the extension button.
The extension will show the URL with a Cache button under it.
Click that button, and the Reddit page will be cached.
To recover the saved page, click on the extension button again.
Recover Deleted Reddit Posts and Comments by Using Google Cache
This method only works when a Reddit post was erased recently.
It relies on Google and its powerful Caching service.
To retrieve Reddit posts using Google chase, follow these steps:
Go to Google.com and look for the Reddit post.
In the search bar results, you'll see a downward-facing arrow next to the post's name, and this is what you must click on.
Choose "Cached" from the drop-down list.
Google will redirect you to the Reddit post as it was when Google bots last visited it.
Read Removed Reddit Comments Using Resavr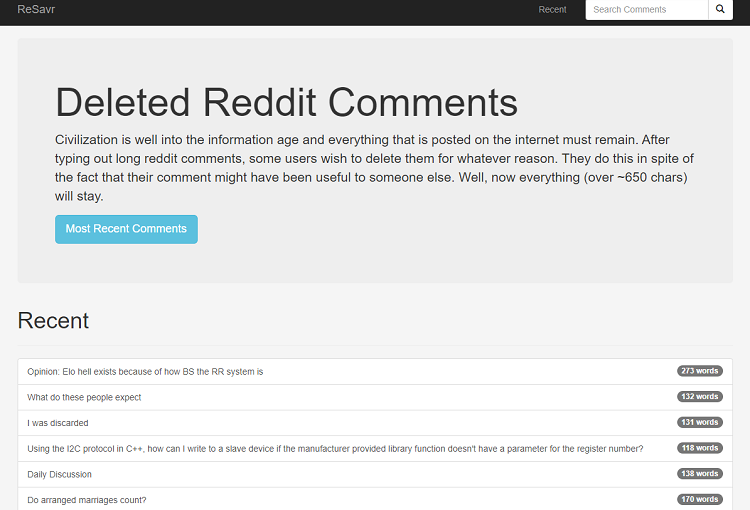 Resavr is another handy tool if you're looking for removed Reddit comments.
However, the tool only extracts and saves deleted posts and comments, which are 650 characters or more.
To view deleted Reddit comments using Resavr, you have to visit the Resavr homepage.
You have the option of searching for a comment using the post title.
In addition, there's a Recent comments tab that displays the recently deleted posts and comments from the platform.
As well as displaying the comments, the site also shows the character length and the time and date that the post was deleted.
With this information, you'll be able to explore the post further by visiting websites such as Wayback Machine.
Other Posts:
Difference between Marketing and Advertising
Why Social Media Marketing is Important
10 Best Content Marketing Ideas for Small Businesses
8 Best Marketing Automation Tools for Small Business