Jobs
Human Resource Manager at Westfield Consulting Limited
Westfield Consulting Limited is welcoming suitably qualified applicants for the vacant position of a Human Resource Manager. This job opportunity is located in Nigeria. Check below for the full details of the position:
Job Title: Human Resource Manager

Employment Type:

 Full-Time
Work experience: 7 years
Location: Lagos
Job Field: HR Services
Other jobs like this you might like:
About Westfield Consulting Limited
Westfield Consulting was founded in January 2012, by a team of Nigerians with over 45 years of cumulative work experience in management and consultancy. Westfield Consulting is a provider of Human Resource and Strategic Management Services. Our focus on innovation and excellence in service delivery has made us a first choice to our growing clientele in various sectors.
We have successfully achieved a positive work force attitude, while engineering a more motivated and committed workforce for our clients with notable results Our results provide a testament about the quality of our services. 70% of our business is repeat business.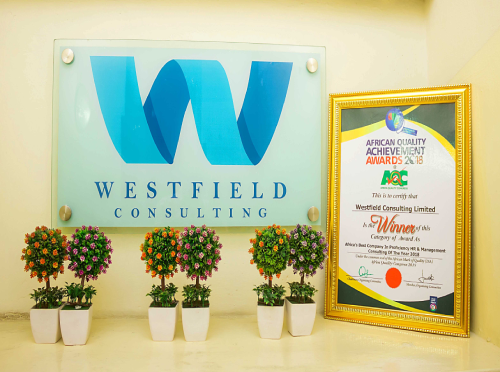 Responsibilities
HR Strategic Planning:
Develop Human Resources strategy & structure in line with its overall corporate strategy and objectives
Review, amend and draft job descriptions for all job roles and functions.
Formulate HR plans, policies and procedures according to the Company's objectives
HR Administration:
Prepare HR budget and ensure compliance with budget
Provide technical & professional advice to Legal Representatives for legal proceedings related to HR
Man Power Planning & Talent Sourcing:
Set up and maintain succession planning framework for relevant job roles and functions
Develop a robust recruitment and selection process aimed at hiring top talents
Compensation Schemes & Benefits Management:
Review and agree on compensations & benefits management system: salaries, rewards and benefits system.
Performance Appraisals and Management:
Formulate effective Performance Appraisal/Management Policy, Procedures and ensure its compliance.
Review and analyse the performance appraisal management process
Employees Relations Management:
Set up policies and procedures for the treatment of employee horizontal and vertical inter-organizational conflicts
Enhance organizational communications
Encourage and develop employee communication
Ensure proper management of staff amenities, occupational and health safety
Training and staff development:
Identify areas of development
Explore the new skills to enhance productivity
Administer the training policy
Administration:
Design and execute policies and standard operating procedures (SOP) for procurement activities (contract management, tendering etc.) and the management of assets (facilities, utilities, vehicles, equipment etc.).
Select vendors and suppliers based on best practice standards.
Ensure optimal allocation and management of physical assets.
Advice management of future procurement needs in order to aid planning and budgetary decision making processes.
Oversee the usage, maintenance and repairs of all company assets.
Payment of rentals, statutory payments e.g. light bills, water bills, State/Local Govt. levies etc.
Security and general cleanliness of the office
Actively participate in meetings and in-house training sessions
Perform other administrative duties requiring discretion to relieve the Supervisor of many routine matters.
Experience, Knowledge and Educational Qualifications
A First Degree in any discipline
Relevant professional certifications such as The Chartered Institute of Personnel Management (CIPM), Professional in Human Resources (PHR), SPHR, GPHR
A second degree is an added advantage
A minimum of seven (7) years of related experience and/or training.
Key Competencies / Skills:
Experience in dealing with the public with a high degree of tact and confidentiality.
Ability to maintain cooperative relationships with those contacted in the course of work activities
Ability to direct staff
Knowledge of strategic procurement
Knowledge of the Nigerian Industrial/Labour Laws
Knowledge of competency modelling and curriculum development
Knowledge of competency-based recruitment
Change Management/Continuous Process Improvement
Project Management
Performance Management skill
Career Management/Development
Payroll, Compensation and Benefits Planning.
Jobs with no deadline specified:
Application Procedure
Interested and qualified candidates should send their CV to: cvs@westfield-consulting.com using the Job Title as the subject of the mail.