Education
List of Universities Offering Medicine and Surgery in Nigeria
List of Universities Offering Medicine and Surgery in Nigeria
This seven year bachelor's degree program in provides Nigerian undergraduate with a solid Foundation in Medicine & Surgery.
Commonly referred to as the hardest course degree in Nigeria, Medicine and Surgery is also the longest course degree in Nigeria, Taking seven years to complete the program.
This degree is so competitive that even gaining admission is highly challenging.
Read also:
List of Universities Offering Law in Nigeria
List of Private Polytechnics in Nigeria
List of All Federal, State & Private Polytechnics in Nigeria
List of State Polytechnics in Nigeria
---
The course equips students with all the skills they need to be successful in any area of Medicine as Medicine is a broad field.
Individuals that intend to study medicine should have a solid foundation in physics chemistry and Biology.
Graduates of this course could have career opportunities such as Gynecologists and Obstetricians, Radiologists, Optometrists, Pediatricians, Surgeons etc.
To be Admitted into this course Aspirants are expected to take English Language, Physics, Chemistry and Biology in the annual UTME examination, They are also expected to have a 5 credit pass in
WAEC/NECO with subjects including Mathematics, English Language,Physics, Chemistry and Biology.
However we recommend that you View Jamb Brochure as Admission Requirements vary in different Universities.
Admission Requirements for Medicine and Surgery
---
Direct Entry Requirements:
'A' Level passes in Physics, Chemistry and Biology or Zoology in addition to the UTME requirements.

BSC, BOS, etc in relevant programme.
O'Level Requirements:
Five (5) SSC credit passes in
English Language,

Mathematics,

Physics,

Chemistry and

Biology.
UTME Subjects Combination / Requirements:
English Language,

Physics,

Chemistry and

Biology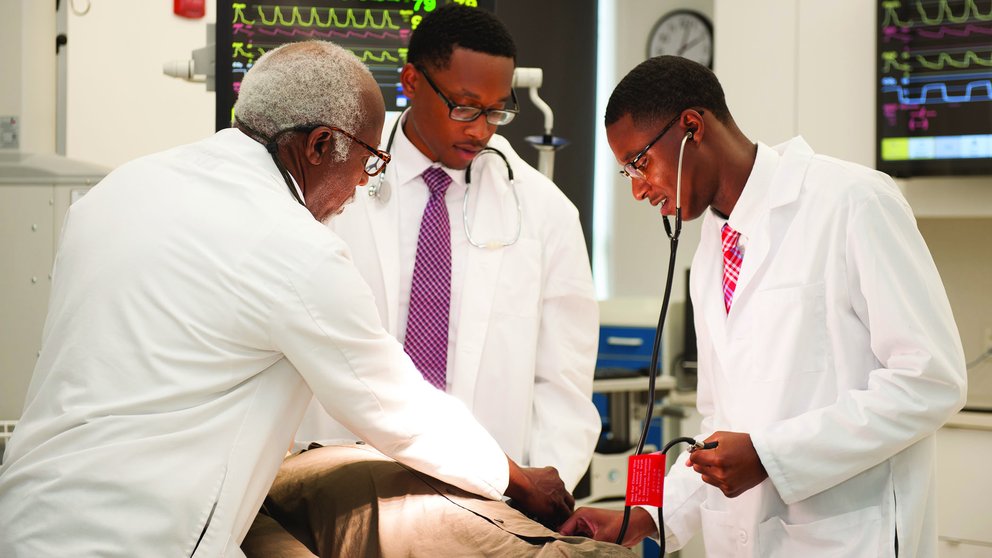 ---
Nigerian Universities Offering Medicine and Surgery
Below is the Complete List of Universities Offering Medicine and Surgery
---
Ambrose Alli University, Ekpoma (AAU)
Ambrose Alli University is a State University located at Ekpoma, Edo State, Nigeria and established in 1980 | Official Website: aauekpoma.edu.ng
---
Abia State University, Uturu (ABSU)
Abia State University is a State University located at Uturu, Abia State, Nigeria and established in 1981 | Official Website: abiastateuniversity.edu.ng
---
Ahmadu Bello University, Zaria (ABU)
Ahmadu Bello University is a Federal University located at Samaru, a suburb of Zaria in Kaduna State, Nigeria and established in 1962 | Official Website: abu.edu.ng
---
Afe Babalola University, Ado-Ekiti (ABUAD)
Afe Babalola University is a Private University located at Ado-Ekiti, Ekiti State, Nigeria and established in 2009 | Official Website: abuad.edu.ng
---
University of Abuja, Gwagwalada (UNIABUJA)
University of Abuja is a Federal University located at Gwagwalada Abuja in Federal Capital Territory State, Nigeria and established in 1988 | Official Website: uniabuja.edu.ng
---
Babcock University, Ilishan-Remo (BU)
Adamawa State University is a State University located at Mubi in Adamawa State, Nigeria and established in 1999 | Official Website: babcock.edu.ng
---
Bayero University (BUK)
Bayero University is a Federal University located at BUK, along new site Bayero university Kano, Kano State, Nigeria and established in 1975 | Official Website: buk.edu.ng
---
Abubakar Tafawa Balewa University (ATBU)
Abubakar Tafawa Belewa University is a Federal University located at Bauchi, Bauchi State, Nigeria and established in 1988 | Official Website: atbu.edu.ng
---
University of Benin (UNIBEN)
University of Benin is a Federal University located at Ugbowo Campus Benin City in Edo State, Nigeria and established in 1970 | Official Website: uniben.edu.ng
---
ECWA Bingham University, New Karu (BU)
Bingham University is a Private University located at KM 26 Abuja-Keffi Expressway Kodope, Karu, Nasarawa State, Nigeria and established in 2005 | Official Website: binghamuni.edu.ng
---
Bowen University, Iwo (BU)
Bowen University is a Private University located at Iwo Local Government in Osun State, Nigeria and established in 2001 | Official Website: bowen.edu.ng
---
Benue State University, Makurdi (BSU)
Benue State University is a State University located at Gboko Road, Walmayo, Makurdi in Benue State, Nigeria and established in 1992 | Official Website: bsum.edu.ng
---
University of Calabar (UNICAL)
University of Calabar is a Federal University located at Eta Agbo Road Calabar in Cross River State, Nigeria and established in 1975 | Official Website: unical.edu.ng
---
Chukwuemeka Odumegwu Ojukwu University, Uli (COOU)
Chukwuemeka Odumegwu Ojukwu University is a State University located at Ulli in Anambra State, Nigeria and established in 2000 | Official Website: coou.edu.ng
---
Delta State University, Abraka (DELSU)
Delta State University is a State University located at Abraka in Delta State, Nigeria and established in 1992 | Official Website: delsu.edu.ng
---
Ebonyi State University, Abakaliki (EBSU)
Ebonyi State University is a State University located at Enugu-Abakaliki Rd, Ntezi Abba, Abakaliki in Ebonyi State, Nigeria and established in 2000 | Official Website: ebsu.edu.ng
---
Elizade University, Ilara-Mokin
Elizade University is a Private University located at Ilara-Mokin in Ondo State, Nigeria and established in 2012 | Official Website: elizadeuniversity.edu.ng
---
Eko University of Medical and Health Sciences (EkoUNIMED)
Eko University of Medical and Health Sciences is a Private University located at KM 28 Lagos – Badagry Expy, Ojo, in Lagos State, Nigeria and established in 2017 | Official Website: ekounivmed.edu.ng
---
Ekiti State University (EKSU)
Ekiti State University is a State University located at Iworoko road, Ado-Ekiti in Ekiti State, Nigeria and established in 1982 | Official Website: eksu.edu.ng
---
Enugu State University of Science and Technology (ESUT)
Enugu State University of Science and Technology is a State University located at Agbani in Enugu State, Nigeria and established in 1982 | Official Website: esut.edu.ng
---
Federal University, Dutse (FUD)
Federal University of Dutse is a Federal University located at  Ibrahim Aliyu Way Bye-Pass in Dutse State, Nigeria and established in 2011 | Official Website: fud.edu.ng
---
Federal University, Birnin Kebbi (FUBK)
Federal University, Birnin Kebbi is a Federal University located at Jega Rd, Kalgo, Birnin Kebbi in Kebbi State, Nigeria and established in 2013 | Official Website: fubk.edu.ng
---
Federal University, Ndufu Alike, Ikwo (AE-FUNAI)
Also know as Alex Ekwueme University, Ndufu-Alike is a Federal University located at Ikwo in Ebonyi State, Nigeria and established in 2011 | Official Website: funai.edu.ng
---
Gregory University, Uturu (GUU)
Gregory University is a Private University located at Uturu in Abia State, Nigeria and established in 2012 | Official Website: gregoryuniversity.com
---
Gombe State University (GSU)
Gombe State University is a State University located at Tudun Wada Quarters Gombe in Gombe State, Nigeria and established in 2004 | Official Website: gsu.edu.ng
---
University of Ibadan (UI)
University of Ibadan is a Federal University located at Ibadan in Oyo State, Nigeria and established in 1948 | Official Website: ui.edu.ng
---
Igbinedion University, Okada (IUO)
Igbinedion University is a Private University located at Mission Road Okada in Edo State, Nigeria and established in 1999 | Official Website: iuokada.edu.ng
---
University of Ilorin (UNILORIN)
University of Ilorin is a Federal University located at Illorin in Kwara State, Nigeria and established in 1975 | Official Website: unilorin.edu.ng
---
University of Jos (UNIJOS)
University of Jos is a Federal University located at Jos in Plateau State, Nigeria and established in 1975 | Official Website: unijos.edu.ng
---
Kaduna State University (KASU)
Kaduna State University is a State University located at Kaduna in Kaduna State, Nigeria and established in 2004 | Official Website: kasu.edu.ng
---
University of Lagos (UNILAG)
University of Lagos is a Federal University located at Akoka, Yaba Lagos in Lagos State, Nigeria and established in 1962 | Official Website: unilag.edu.ng
---
Lagos State University (LASU)
Lagos State University is a State University located at Badagry Expressway PMB 1087 Ojo in Lagos State, Nigeria and established in 1983 | Official Website: lasu.edu.ng
---
Ladoke Akintola University of Technology, Ogbomoso (LAUTECH)
Ladoke Akintola University of Technology is a State University located at Ogbomoso in Oyo State, Nigeria and established in 1990 | Official Website: lautech.edu.ng
---
Madonna University, Okija
Madonna University is a Private University located at Owerri/Onitsha Expressway Okija in 407 Anambra State, Nigeria and established in 1999 | Official Website: madonnauniversity.edu.ng
See the Complete List of Courses Offered in Madonna University
---
University of Maiduguri (UNIMAID)
University of Maiduguri is a Federal University located at Bama Road Maiduguri in Borno State, Nigeria and established in 1975 | Official Website: unimaid.edu.ng
---
Yusuf Maitama Sule University
Yusuf Maitama Sule University is a Private University located at Kofar Ruwa Road, Kofar Nassarawa in Kano State, Nigeria and established in 1934 | Official Website: nwu.edu.ng
---
Niger Delta University, Yenagoa (NDU)
Niger Delta University is a Federal University located at Wilberforce Island in Bayelsa State, Nigeria and established in 2000 | Official Website: ndu.edu.ng
---
Nile University of Nigeria (NTUN)
Nile University of Nigeria is a Private University located at Plot 681, Cadastral Zone C 00, Research & Institution Area, Jabi Airport Bypass Abuja in Federal Capital Territory, Nigeria and established in 2009 | Official Website: ntnu.edu.ng
---
Obafemi Awolowo University (OAU)
Obafemi Awolowo University is a Federal University located at Ile-Ife in Osun State, Nigeria and established in 1962 | Official Website: oauife.edu.ng
---
Olabisi Onabanjo University (OOU)
Adamawa State University is a State University located at Mubi in Adamawa State, Nigeria and established in 1982 | Official Website: oouagoiwoye.edu.ng
---
PAMO University of Medical Sciences (PUMS)
PAMO University of Medical Sciences is a Private University located at 1, Tap Road, Elelenwo, Off Aba Expressway Port-Harcourt in Rivers State, Nigeria and established in 2017 | Official Website: pums.edu.ng
---
University of Port Harcourt (UNIPORT)
University of Port Harcourt is a Federal University located at East/West Road, Choba Port Harcourt in Rivers State, Nigeria and established in 1975 | Official Website: uniport.edu.ng
---
Usmanu Dan Fodio University (UDUSOK)
Usmanu Dan Fodio University is a Federal University located at Sokoto in Sokoto State, Nigeria and established in 1975 | Official Website: udusok.edu.ng
---
Osun State University, Osogbo (UNIOSUN)
Osun State University is a State University located at Oke Baale; PMB 4494 Oshogbo in Osun State, Nigeria and established in 2006 | Official Website: uniosun.edu.ng
---
Nnamdi Azikiwe University, Akwa (UNIZIK)
Nnamdi Azikiwe University is a Federal University located at Awka in Anambra State, Nigeria and established in 1992 | Official Website: unizik.edu.ng
---
University of Nigeria, Nsukka (UNN)
University of Nigeria, Nsukka is a Federal University located at Innovation Centre, University of Nigeria Nsukka in Enugu State, Nigeria and established in 1960 | Official Website: unn.edu.ng
---
University of Uyo (UNIUYO)
University of Uyo is a Federal University located at Uyo in Akwa Ibom State, Nigeria and established in 1991 | Official Website: uniuyo.edu.ng
---
Yobe State University, Damaturu (YSU)
Yobe State University is a State University located at Km 7, Gujba Road; PMB 1144 Damaturu in Yobe State, Nigeria and established in 2006 | Official Website: ysu.edu.ng
---
Federal University of Health Science, Otukpo
Federal University of Health Science, Otukpo is a Federal University located at Otukpo Benue State, Nigeria and was established in 2020. | Official Website: fuhso.ng
Other posts
List of Federal Polytechnics in Nigeria
Sure Foundation Polytechnic Courses and Admission Requirements
Southern Atlantic Polytechnic Courses and Admission Requirements
Stars Polytechnic Courses and Admission Requirements
St. Mary Polytechnic Courses and Admission Requirements
Speedway Polytechnic Courses and Admission Requirements