Education
NSUK Procedure For Undergraduate Student's Registration
All new and returning students of Nasarawa State University, Keffi (NSUK) are hereby informed that the management of the institution has released the step by step procedure for all undergraduate full-time and Returning students Registration.
The procedures is as follows;
STEP 1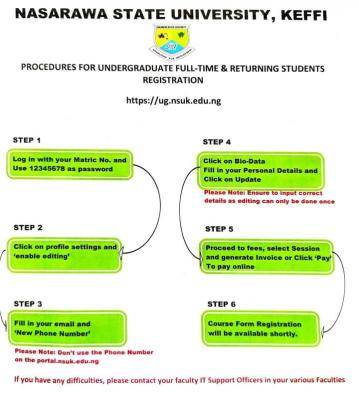 Log on to http://ug.nsuk.edu.ng with your Matric No. and Use 12345678 as password
STEP 2
Click on profile settings and 'enable editing'
Read also:
FUD 2022/2023 School Fees Schedule 
FUHSI 2022/2023 Clearance For Freshers 
OYSCATECH 2022/2023 ND Part Time Admission List 
OYSCATECH 2022/2023 ND Part Time Admission List 
ACEONDO NCE Admission List 2022/2023
ACEONDO DE 2022/2023 Admission List
After JAMB registration, here is what you should do next
STEP 3
Fill in your email and 'New Phone Number'
Please Note: Don't use the Phone Number on the portal.nsuk.edu.ng
STEP 4
Click on Bio-Data
Fill in your Personal Details and Click on Update
Please Note: Ensure to input correct details as editing can only be done once
STEP 5
Proceed to fees, select Session and generate Invoice or Click 'Pay To pay online
STEP 6
Course Form Registration will be available shortly.
If you have any difficulties, please contact your faculty IT Support Officers in your various Faculties